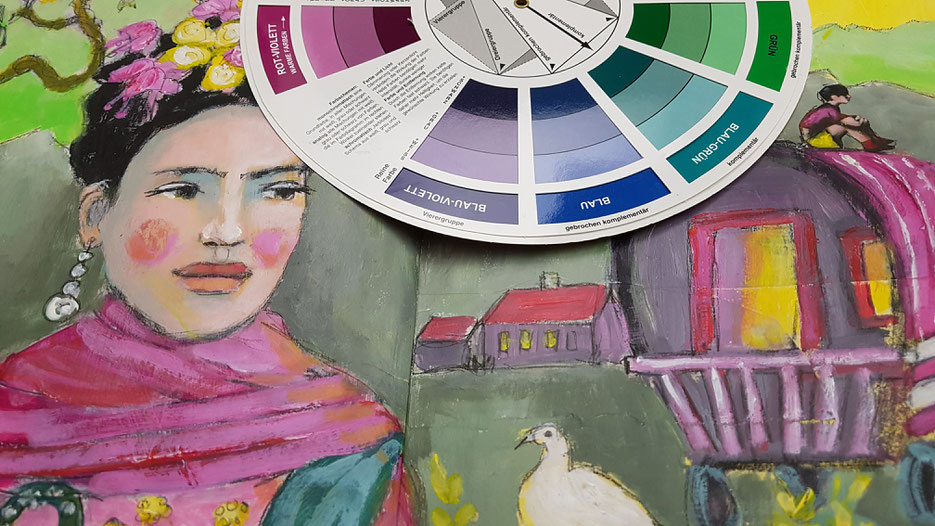 I hope you had a crazy good start into the new year
and it will be healthy, happy and of course creative for you!
 Since my last newsletter I had some time to journal along with loved friends, which always is such a comfort time for me...



This fun spread, which was semi finished comes to a funny end and now it gave me a smile each time I see it...so love when stuff get finished...yes I can't wait to complete the whole journal and make a lil video about!!


The original foto of the lil dog  has happily found its place on this spread...he for years was too cute and beautiful for me to use him in my work, haha...
I often have such crazy feelings about ephemera, that something is to good to glue down....pfewww I have to work on that, haha
A few month ago he was sitting us model so to speak as my students and me have to sketch him 16 times to later journal above these sketches. This was such a fun excercise...here you can see my spread 


I love to stay loose in my journals
and when I sit for an hour with only one brush before bedtime spreads like this happen





and another one, that found its completion in my squarejournal...
 so love when sides that has started seperate work together in the end..





While I was visiting my mom over the holidays
I found this crazy cool house, with a garden filled with magic...




For me it's all about Paint Your Heart and Soul 2019 these days...

Today the fun has started, wohoo and I am busy filming my introduction video for my first lesson.

I am so glad to be part of this stunning yearlong course again.
Wonderful Olga Furman has invited me to join a second round! AND did I mentioned it before? The lineup is incredible!!!

The artwork from all the students last year have filled my heart to the top and I can't wait to start over!




If you want you can have a sneak peek into my 1st lesson 

go here

This will be the only group I will be teaching in this year
and if you want to jump on board

click here



See you soon

Much love 
Conny
(Piarom)